1. China - "Mattel is forced to recall almost 20 million items made in China because of lead paint on toy cars and tiny magnets that could be deadly if swallowed. Lead paint problems are also found in 844,000 Chinese-made Barbie accessories and toys with the Sesame Street brand.

Pet food makers recall more than 60 million cans of food laced with tainted melamine in wheat gluten from China. A huge underground distribution network for steroids, human growth hormones, and other bodybuilding drugs is traced to 37 companies in China. Chinese-made lunch boxes, given away by the California Department of Public Health to promote healthy eating habits among children, are found to contain lead.

Nike recalls 235,000 football helmets because the Chinese-made chin cup has a defective strap and has caused at least two concussions and a broken nose. Ethylene glycol is found in Chinese-made toothpaste. The government of China executes the former head of its State Food and Drug Administration."

2. Eli Lilly -- Prozac for Dogs
Eli Lilly wins FDA approval to put Prozac into chewable, beef-flavored pills to treat separation anxiety in dogs.
3.
Leona Helmsley
leaves $12 million to her white Maltese, Trouble.
4.
Merrill Lynch
-
In the first quarter of 2007, thanks to its $1.3 billion purchase of First Franklin Financial, Merrill Lynch becomes the world's top underwriter of subprime-mortgage-backed securities. Nonetheless, with the market in meltdown just a few months later, Merrill CFO Jeffrey Edwards (pictured) tells analysts that the firm's subprime exposure is "limited, contained, and appropriately marked." In October, Merrill announces a quarterly loss of $2.24 billion after $7.9 billion in subprime-related write-downs.
5.
Stanley O'Neil -
In August and September, as his company is racking up the largest quarterly loss in its 93-year history, Merrill Lynch CEO Stanley O'Neal squeezes in 20 rounds of golf, including three rounds on three different courses in a single day. In October, O'Neal announces his "retirement," walking away with a compensation package valued at $161.5 million.
6.
Citigroup CEO Resigns
- after the company takes an $11 billion write-down.
7.
Hi-Tech Toilets
- "The fire would have been just under your buttocks." Japanese manufacturer Toto apologizes to customers and offers free repairs for 180,000 high-tech toilets - thrones that feature heated seats, air purifiers, blow dryers, and water sprayers - after at least three catch fire. "Fortunately nobody was using the toilets when the fire broke out," says a company spokesman. "The fire would have been just under your buttocks."
8.
Hordes of Rats in KFC/Taco Bell
A video clip showing hordes of rats in a closed-for-the-night KFC/Taco Bell outlet in New York City gets nearly a million hits on YouTube.
9.
Ratatoullie
--
The French daily Le Monde calls Ratatouille, Pixar's movie about a rat in a kitchen, "one of the greatest gastronomic films in the history of cinema."
10.
Electronic Voting Machines
--
Diebold tightens security after it is revealed that a simple virus can hack its electronic voting machines. Months later a hacker uses a picture of a key from the company website to make a real key that can open the company's machines.
11.
Oil Spills
- "I touched the delta tower." -- Captain John J. Cota,
The pilot of the container ship Cosco Busan, after the vessel strikes the San Francisco-Oakland Bay Bridge and spills 58,000 gallons of diesel fuel from a 160-foot gash in its hull.
12.
Procter & Gamble
The parents of two Florida toddlers sue Procter & Gamble after they are surprised to find images of their children on packages of Luvs diapers. The parents say they were paid a "nominal fee" at a casting call but were promised an additional payment if the photos were selected.
13.
Disneyland
-- Gives free food coupons to fat customers for not sinking their small world. Disneyland announces plans to close the "It's a Small World" attraction to deepen its water channel after the ride's boats start getting stuck under loads of heavy passengers. Employees ask larger passengers to disembark - and compensate them with coupons for free food.
14.
Naked Sunday
--The Fitworld gym in Heteren, the Netherlands, introduces Naked Sunday.
15.
Toy Converts Into Date Rape Drug
--
Australia's Toy of the Year, a bead toy called Bindeez made by Moose Enterprise, is pulled from stores after scientists discover that the beads contain a chemical that converts into the date-rape drug GHB when ingested.
16.
Microsoft Pretexting Award
-- While working on an article about Microsoft, Wired contributing editor (and former Fortune writer) Fred Vogelstein receives a 13-page dossier about himself, describing him as "tricky" and his stories as "sensational." The document, prepared by the company's public relations firm, Waggener Edstrom Worldwide, as background for Microsoft executives, was sent inadvertently to the writer.
17.
Cocaine Energy Drink
--
After receiving a warning from the FDA, Redux Beverages agrees to stop calling its energy drink Cocaine. It changes the name first to Censored, then to NoName.
18.
Censoring the Word "Cock"
--
A contributor to the website of the Royal Society for the Protection of Birds complains that he is being censored when a filter in the site's Microsoft software automatically replaces the word "cock" - the common designation for a male bird - with asterisks. "As bird lovers will know," he writes, "a Parus major is a great tit, and while a **** doesn't get past the forum censors, tits do not cause offense."
19.
Judge Rules OK to Drive Zambonis Drunk
--
New Jersey Superior Court Judge Joseph Falcone dismisses drunk-driving charges against a Zamboni operator even though he tests positive for alcohol. The judge rules that the ice-grooming machines aren't motor vehicles because they are not street legal.
20.
OJ Simpson's Troubles Have Not Worked Out for Him
--
"The police, since my trouble, have not worked out for me." -- O.J. Simpson, on why he took matters into his own hands to reclaim memorabilia he says were pilfered. He is charged with kidnapping and armed robbery.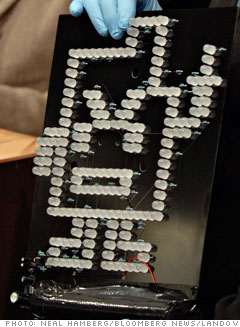 21.
Cartoon Network's "Aqua Teen Hunger Force" Salutes
-- To build buzz for its animated show "Aqua Teen Hunger Force," Turner Broadcasting's Cartoon Network places electronic lightboards throughout Boston, triggering a bomb scare that shuts down two bridges, an expressway, a subway station, and a stretch of the Charles River. The devices depict a character from the show saluting passersby with an upraised middle finger.
22.
Don Imus
' "
Nappy-headed hos
" remark
23.
HBO President Punches and Chokes Girlfriend
--
HBO President Chris Albrecht allegedly punches and chokes his girlfriend while drunk at 3 A.M. in a Las Vegas parking lot
24.
Raining Dollar Bills on Las Vegas Dancers
--
Tennessee Titans Cornerback Adam "Pacman" Jones rains dollar bills down on dancers at a Las Vegas strip club, setting off a melee in which three people are shot.

25.
Isiah Thomas
-- Sexual harassment lawsuit
The Rest of the Dumb Moments List...