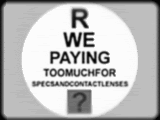 Yep, according to commentator Daniel Pinkwater, it's fairly simple to get really well-made glasses online at a fraction of the cost of over-the-counter ones. All you need is your prescription and your pupillary distance, that is the distance from the center of the pupil (black circle) in one eye to the center of the pupil in the other eye. This is needed to accurately center the lenses in the frame that you have selected. You can measure the distance yourself using a millimeter ruler, however; to ensure accuracy it's better to have the Optometrist measure.

After Mr. Pinkwater's eyeglasses arrived he had them checked out by his Optometrist, who said they were "right on". He then asked his Optometrist, "How does the commercial enterprise justify a 90% markup? "

His Optometrist responded, "The lens cost maybe a quarter to make, the frame, maybe a buck but there is rent, advertising and all that overhead and then there is the issue of patriotism..." I'll let you listen to the rest.

39DollarGlasses.com and Frames Direct are supposed to be very good. Mr. Pinkwater may have bought his eyeglasses at ZenniOptical, but I'm not sure as he did not specify which optical online site he purchased his eyeglasses from... unTECHy posts an unbiased review. of ZeniOptical.