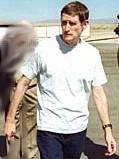 Charles Fain spent 18 years on death row, falsely accused of raping and murdering a 9-year-old girl based on the testimony by a "jailhouse" snitch who claimed Charles Fain confessed, and the testimony of an FBI lab technician that three hairs found on the victim likely came from Fain. The jury rejected Fain's alibi defense, that at the time of the crime, he was living with his parents almost 400 miles away, in Redmond, Oregon. Fain was sentenced to death and his conviction was upheld on appeal.

In 2001, DNA analysis excluded him as the source of three hairs found on the victim. He was subsequently released.


Donald Paradis After spending 14 years on death row, Donald Paradis was released from prison when his 1981 murder conviction was overturned. Judge Gary Haman, who originally sentenced Paradis to death, came out of retirement to accept Paradis' plea to moving the body after the murder. Paradis, who always maintained that he was not involved in the slaying of Kimberly Anne Palmer, was sentenced to 5 years and released for time already served. The deal came after a federal court of appeals ruling that Paradis was denied a fair trial because prosecutors withheld potentially exculpatory evidence. Paradis was scheduled for execution three times before his sentence was commuted to life imprisonment in 1996 by then-Governor Phil Blatt who had doubts about Paradis' guilt. Paradis' trial lawyer, William Brown, never studied criminal law, never tried a felony case, and never tried a case before a jury. While representing Paradis, Brown also worked as a police officer. His defense lasted only three hours. In addition, Dr. Brady, the pathologist who performed the autopsy of Ms. Palmer, testified that Palmer had been killed in Idaho, not in Washington where Paradis had already been acquitted of the murder. Dr. Brady was fired as a medical examiner soon after the Paradis trial when it was discovered that he had sold human tissue for profit and saved human blood, collected during autopsies, for use in his garden.

What if he hadn't had the services of two dedicated lawyers and the virtually limitless resources of Coudert Brothers?

When you tally the many thousands of hours of legal work that went into the case and the expenditures made on Mr. Paradis's behalf, the cost of securing justice for him ran to well over $5 million.

Now consider that 97 percent of the defendants on death row are indigent.

Both lawyers were chastened by their experience. ''I know that we can't trust human beings with this penalty unless we're prepared to kill innocent people,'' said Mr. Matthews.